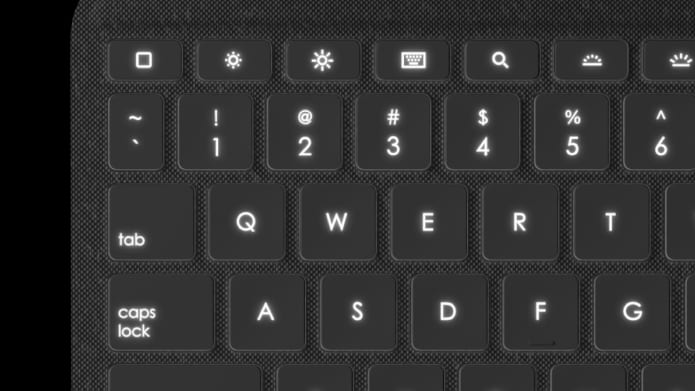 BACKLIT KEYS
Enjoy using iPad in your bedroom with the lights down low? We do, too. That's why the integrated keyboard comes equipped with backlit keys. Five adjustable levels of brightness ensure you can see what you're doing whether you're in the bedroom, on a plane, camping, or any other low-light environment.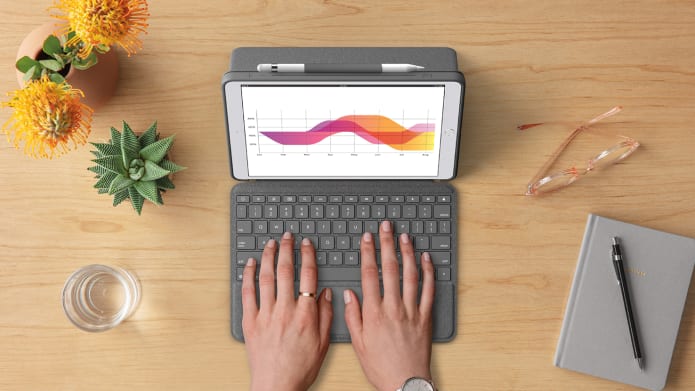 YOUR FINGERS WILL THANK YOU
Over 20 years of typing innovation goes into every keyboard Logitech makes so your keystrokes are fluid, natural, and accurate. Enjoy hours of comfortable typing thanks to large, well-spaced keys stretched edge-to-edge so your hands won't feel crowded. Logitech keyboards feature a scissor mechanism beneath each key to deliver the perfect bounce every time.
FOUR USE MODES
Combo Touch is flexible enough for any task.
Type Mode:?Dock the keyboard upright and pull out the kickstand to type out notes or emails.

Viewing Mode: Detach the keyboard and pull out the kickstand to watch movies and TV shows.

Sketching Mode: Fully extend the kickstand back for the perfect angle to take notes or draw with Apple Pencil (1st gen) or Logitech Crayon.
Reading Mode: Tuck the kickstand in and detach the keyboard to read books, articles, and more.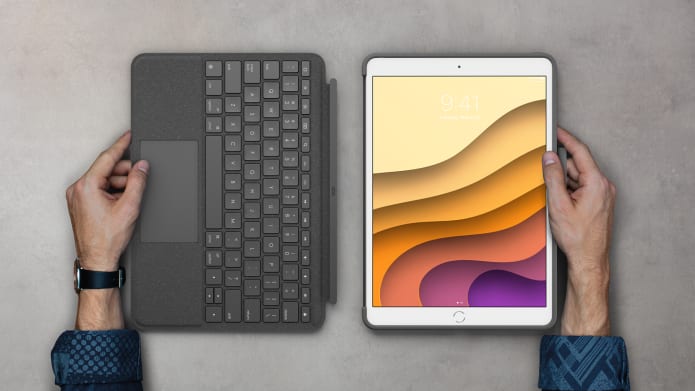 LEAVE THE KEYBOARD BEHIND
When you finish typing, detach the keyboard and enjoy your beautiful iPad screen.?
ANY ANGLE KICKSTAND
Flexible kickstand offers 40° of tilt so you can always find the right angle for the task at hand. A sturdy mechanical hinge ensures the kickstand stays firmly in place and does not collapse, even with strong tapping.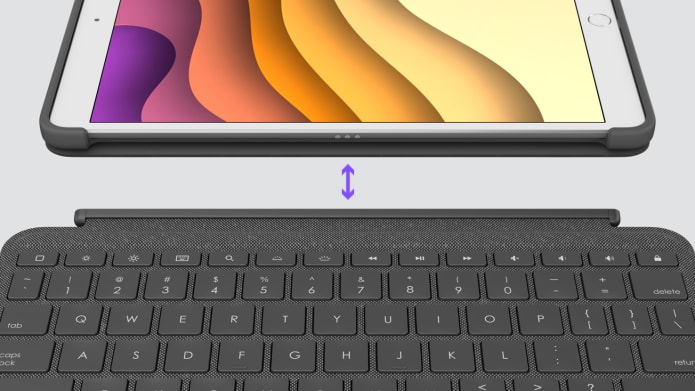 POWER AND PAIR IN ONE CLICK
Batteries aren't included, because you'll never need them. Combo Touch sources power, pairs, and even securely transfers data all via the Smart Connector.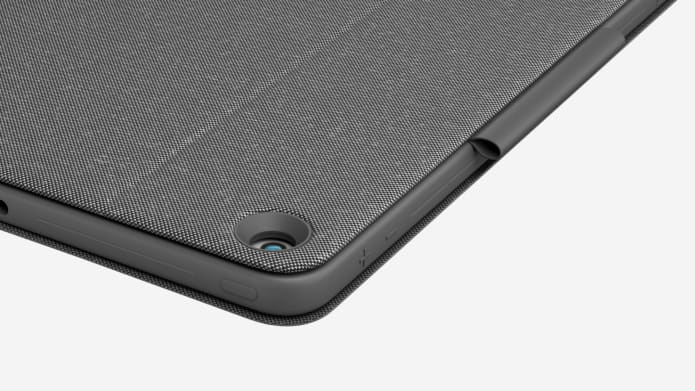 FRONT AND BACK PROTECTION
Keep the front and back of your iPad safe from scuffs, scratches, and spills. Combo Touch securely holds iPad in a lightweight case that keeps corners protected and doesn't weigh you down. Woven outer fabric is soft to the touch.
COMBO TOUCH FOR
i

P

ad

(7TH GEN),

i

P

ad

AIR (3RD GEN) AND

i

P

ad

PRO 10.5-INCH
Backlit keyboard case with trackpad and Smart Connector
Estimated shipping in May
Free shipping on orders GBP39.00 and over.
---
Combo Touch for iPad 7th gen

Height: 257 mm
Width: 195 mm
Depth: 22.55 mm
Weight: 610 g

Combo Touch for iPad Air and iPad Pro 10.5-inch

Height: 257 mm
Width: 195 mm
Depth: 21.64 mm
Weight: 610 g

Combo Touch for iPad 7th gen

Combo Touch for iPad Air (3rd gen) and iPad Pro 10.5-inch

iPad Air: 3rd gen
iPad Pro 10.5-inch

Modes: Type, View, Sketch, Read

Keyboard Type: Detachable keyboard

Power and Connectivity: Powered by iPad via the Smart Connector

Case

Space to stow Apple Pencil 1st generation
Front and back protection
Access all ports - Camera / Lightning

Keyboard

5 levels of adjustable backlighting
Full row of iOS shortcut keys
Combo Touch for iPad 7th gen
18mm key pitch
1mm key travel
Combo Touch for iPad Air and iPad Pro 10.5
18mm key pitch
1mm key travel

Row of iOS Shortcut Keys (Left to Right)

Home
Screen brightness down
Screen brightness up
Onscreen keyboard
Search Key brightness down
Key brightness up
Previous track
Play/pause
Next track
Volume mute
Volume down
Volume up
Lock

Combo Touch Keyboard Case
Documentation

2-Year Limited Hardware Warranty

Graphite for iPad (7th gen) UK English (Qwerty): 920-009629
Graphite for iPad (7th gen) Suisse / Schweizer (Qwertz): 920-009609
Graphite for iPad Air (3rd gen) and iPad Pro 10.5-inch Italiano (Qwerty): 920-009642
Graphite for iPad (7th gen) Deutsch (Qwertz): 920-009624
Graphite for iPad Air (3rd gen) and iPad Pro 10.5-inch Fran?ais (Azerty): 920-009641
Graphite for iPad (7th gen) Fran?ais (Azerty): 920-009625
Graphite for iPad Air (3rd gen) and iPad Pro 10.5-inch Suisse / Schweizer (Qwertz): 920-009611
Graphite for iPad (7th gen) Italiano (Qwerty): 920-009626
Graphite for iPad Air (3rd gen) and iPad Pro 10.5-inch Espa?ol (Qwerty): 920-009643
Graphite for iPad (7th gen) Espa?ol (Qwerty): 920-009627
Graphite for iPad Air (3rd gen) and iPad Pro 10.5-inch Dansk/ Norsk/ Svenska/ Suomalainen (Qwerty): 920-009644
Graphite for iPad (7th gen) Dansk/ Norsk/ Svenska/ Suomalainen (Qwerty): 920-009628
Graphite for iPad Air (3rd gen) and iPad Pro 10.5-inch UK English (Qwerty): 920-009645
Graphite for iPad Air (3rd gen) and iPad Pro 10.5-inch Deutsch (Qwertz): 920-009640